Antique Shopping
February brings about one of my favorite yearly traditions – antique shopping with my husband.  The first year we moved into this house he suggested that we take the afternoon of Valentine's day and go visit the antique store that's around the corner from our house (and YES – it is both awesome and dangerous to have a huge antique store right around the corner from your house!).  We've gone every year since and every year I pick up a few special things.  This year I grabbed some absolutely beautiful pieces for the upcoming front room/dining room makeover.  These two botanical prints were honestly just screaming for me to buy them – I'm not sure if I'm going to keep the frames though because they're plastic and maybe a little bit two big.
The same seller also had this little round table that fits perfectly in the corner next to the couch.  I need to do a little research on it because I'm not sure about keeping the color the same.  I may need to wait until the rest of the room comes together before I make my final judgement.
I think my favorite find was this trio of bone inlay candlesticks (and yes I said bone inlay – please don't hate me!).  They are so gorgeous that I had to take all three home.  I had been thinking about brass or black candlesticks for the top of the mantle of the not yet existent fireplace – but these are so amazingly special that they hands down beat my original idea.
Basement Shelves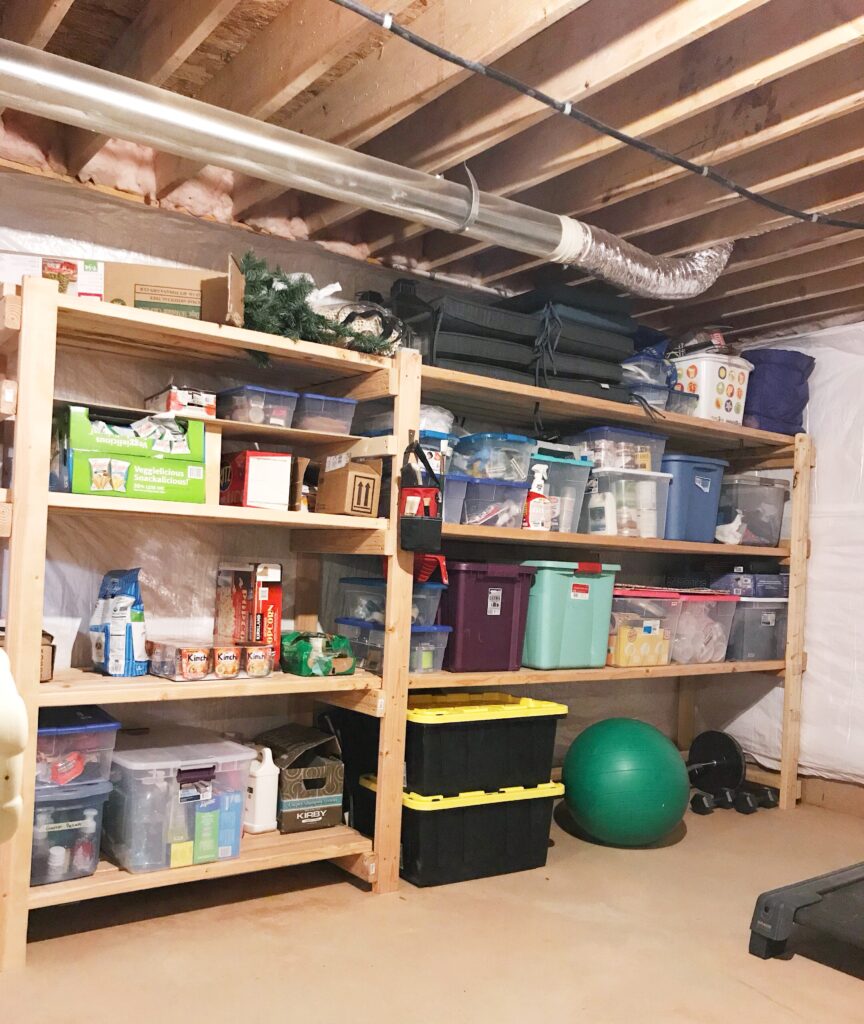 While the weather has been less than ideal, I was able to at least check off one of my 2018 projects this month and finish the 2nd set of shelves in our basement.  I loosely used these plans from Ana White, but left one of the bottom bays open so Jon could slide his exercise equipment in very easily and I split one of the shelves in half to store smaller pantry goods.  With the extra room these shelves provide I was able to move all of my painting supplies out of the garage and have a place for all of our Costco back stock.  I still have to give the other side a really good purge because I  ran out of steam after building those and just threw everything on the shelves.  Maybe once the weather changes I'll get a sudden burst of energy and get through it all!
Dining Room Set Re-Finishing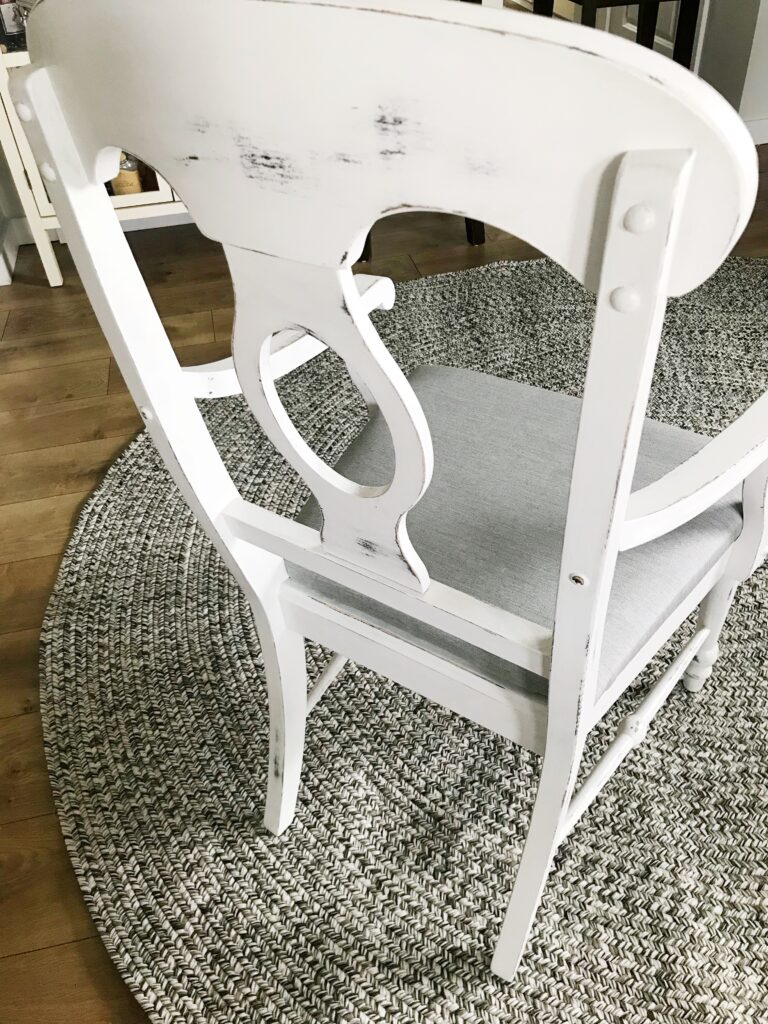 Another project that i took on this winter was to try to expand my furniture re-finishing skills.  I started this dining set right after Christmas but unfortunately the car accident set me back a few weeks so I finished the final few chairs at the beginning of this month.  I forgot to get a picture of the whole set beforehand but from the Before of the chair I think you can get a sense of the original color – the chairs and table legs were a weird off-white and the table top was a honey oak veneer.  Using a combo of my favorite General Finishes Gel Stain, white chalk paint,  some Gray Sunbrella fabric I think we really brought some life back to this set!
February Recipes
Find the links to all these and other of my favorite's on my Recipes Tab.
Chicken w/Creamy Mushroom Sauce and Snap Peas
One of my absolute favorite weeknight dinners!  My husband isn't the biggest fan of mushrooms (or snap peas) but he loves this one served over a big plate of rice (minus the snap peas!).  Click here for the recipe.
Cabernet Short Ribs with Parmesan Polenta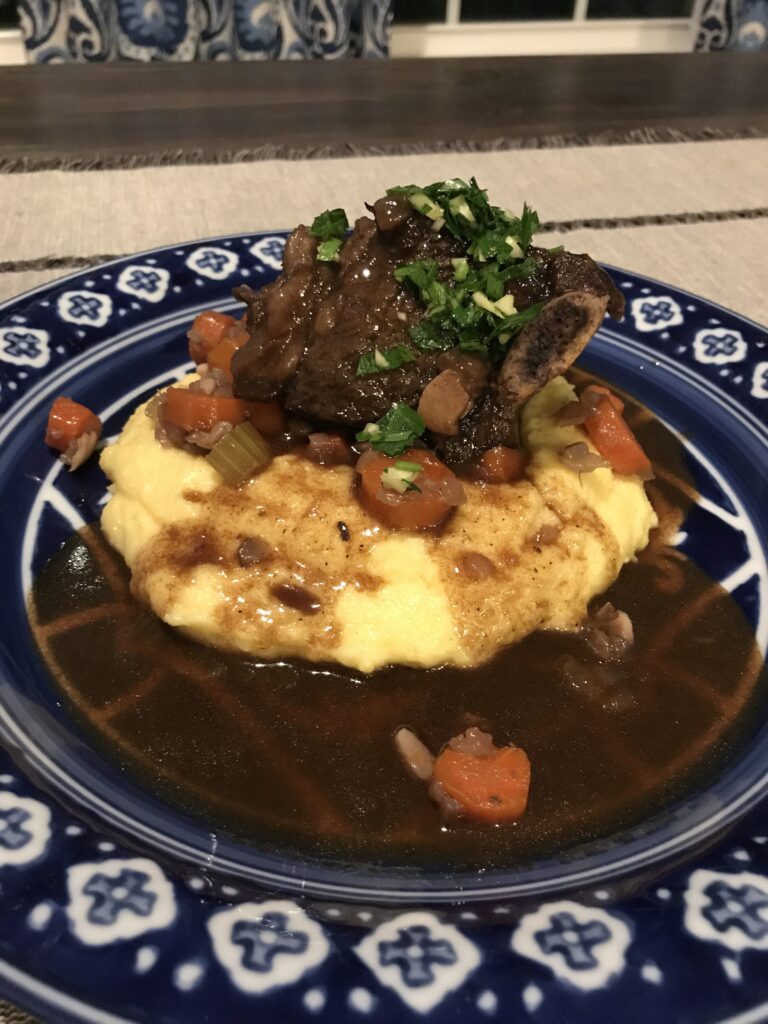 I love me some braised meat!  I usually cook up something warm and comforting for Valentines day and this year these Short Ribs and Cheesy Polenta made for a perfect romantic dinner.  Click here for the recipe.